Life Lines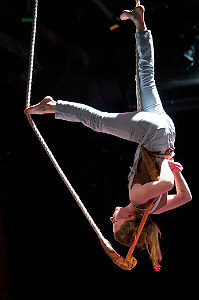 In one heartbeat, everything around you can shift. Life Lines is Tangle's newest circus-theater show, bringing a signature blend of aerial dance, vertical drama, and live music to the 2017 FringeArts Festival. Nine women use trapeze and aerial silks to climb above a world turned instantly upside-down. Strangers collide and are changed forever, empty rooms listen in, and women find their power in flight in this dynamic circus-theater show.
Innovative aerial storytelling explores the chain reaction of a community healing after sudden disruption, as Tangle's acrobats learn to hold each other up—or leave each other hanging. Life Lines navigates the shock of loss—of love, safety, freedom, or physical ability—as three women unspool very different stories of healing from the same unexpected change.
Life Lines premieres at Neighborhood House in Philadelphia's Old City as part of the 2017 FringeArts Festival, on September 6-9, 2017.
Tangle Movement Arts is a circus arts company with a contemporary twist, whose work integrates traditional circus like trapeze and acrobatics with dance, theater, and live music to tell a multi-dimensional story. Philadelphia Weekly says Tangle "blends circus-style acrobatics with a smart theatrical spin."
WHERE: Neighborhood House (20 N. American Street, Philadelphia PA 19106).
WHEN: Wednesday September 6th (special $14 preview, 8pm), Thursday September 7th (8pm), Friday September 8th (8pm) and Saturday September 9th (3pm and 8pm).
TICKETS: $15-$20 with discounts for students, artists, seniors, and groups.
FAQ: Wheelchair-accessible. Metered and lot parking available. The performance is family-friendly, although not oriented towards children. Theater opens 30 minutes before showtimes. It is not necessary to bring your printed ticket. Contact info@tangle-arts.com or call 215-266-6215 with questions.